Bank Negara Scholarship (Pre-University)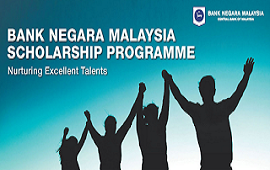 Scholarship Info
Kijang Scholarship
(Application will be open from 16 March to 29 March 2019)
The Kijang Scholarship is awarded to eligible individuals to pursue pre-university programmes.
+Candidates must fulfill the following minimum requirements:
+Minimum 8As (A and A+ only) in the SPM 2018 examination.
+Not exceeding 19 years of age on 1 July 2019.
+The sponsorship to pursue a bachelor's degree is subject to the scholar meeting the Bank's approved criteria.
+How to Apply
MORE INFO AND APPLICATION CLICK HERE
CLOSE DATE : 29 MARCH 2019 | APPLY NOW!

(Visited 974 times, 1 visits today)